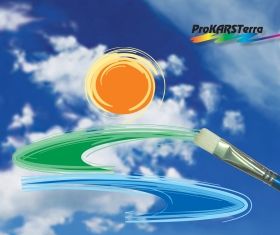 The international jury awarded 4 first, 15 second and 14 third prizes. Their holders are a total of 56 participants in the competition. Another 18 works were awarded with an award.
Distribution of awards by country
List of awarded participants in the fifth edition of the competition
You can view the award-winning works in the respective competition categories in the sections of this site. Information about the results of the fifth edition of the competition is also published on the website of the International Year of Caves and Karst (IYCK2021).
All authors proposed by the jury for a prize, as well as those awarded with an encouragement, receive diplomas. In the spirit of the tradition from 2015, original sculptures with rock samples, provided by the Experimental Laboratory of Karstology at NIGGG-BAS, were once again made for the awarded participants. The awards were made by Martin Kopetsky, Mona Radanova and Mihaela Kamenova from «ZALAG DARISE'» EOOD. The facilitator is TITAN "Zlatna Panega Cement".
The prizes will be sent to the addresses specified by the authors, and they will be notified in due course.
Awarded participants by category
some of the works open after clicking on them
In addition to the award-winning works, other 49 competition works received high marks from the jury members:
Awarded competition works from the fifth edition of the competition will also be included in the traditional traveling exhibition "Karst under protection - a gift for the generations", as well as in various exhibitions, incl. virtual, organized by the Experimental Laboratory of Karstology (up-to-date information will be uploaded to the laboratory's website).