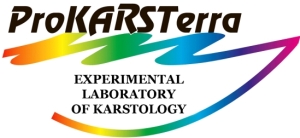 PUBLIC APPEARANCES OF THE LABORATORY
Participation of the Laboratory team in international scientific forums:
30 scientific forums (Bulgaria, Japan, Czech Republic, Poland) with 69 papers, of which 30 were published
Laboratory Expertise and Consultancy:
Expert reports – 4
Opinions, consultations and information summaries (required by institutions) - 28
Lectures:
A total of 194 lectures/presentations at 14 events were held, of which: 151 lectures were field lectures.
Organized by the Laboratory competitions, exhibitions and other public appearances:
Competitions:
Public appearances with the presentation of specialized exhibitions: 14, incl. in 2018:
"Innovative education through karst" (7 March 2018, seminar in at school "Hristo Botev", Vratsa);
"Karst - the terra incognita of the 21st century, and what is karst?" (10-13 May 2018, Sofia Festival of Science, Sofia Tech Park);
"Innovative Education For/Through Karst" (National Meeting-Discussion on the Active introduction of Karst in the Educational System, NIGGG-BAS, June 23-24, 2018) - with an exhibition of winning works from the competition "Karst under Protection – Gift for the future Generations".